I seriously did not know exactly what to call this quick and easy dessert. It's not a crumble, a grunt, a pandowdy or a buckle and it isn't really a pie either, though that is what it was standing in for when I made it.
Steve loves, loves, loves Saskatoon pie. It is really the only pie that I make. Even pumpkin pie, I must admit, I usually buy pre-made – mostly because I don't find a home made one to be significantly better in many cases. They often aren't more expensive than home made either. Now saskatoon pie, that's different.
The wild saskatoon berries here were fantastic this year and despite having several bushes out in the yard I found myself being guided (dragged begrudgingly) down a rail bed earlier in the summer to get to that super special, king-of-all saskatoon bushes that Steve had his eye on all spring. Only problem was when we got there we discovered that it wasn't actually saskatoons…he'd been dutifully watching some other white flowering wild bush develop all spring. Lucky for the big man there were plenty of other fruit laden bushes along the way back so after just a short trip we had a full bucket. Well, I had a full bucket, he had a partial bucket. Just sayin'
Anyway a pie was in the works for Steve but I was determined to find a way for me to also enjoy some saskatoon yumminess. So I put together these cute little individual tart-like dishes. Really, I don't know what to call them.
I pre-baked a press-in almond crust in 4 oz ramekins and then simply pre-cooked my standard filling ingredients, with Swerve sweetener as a stand in for the usual sugar. A few minutes in the oven, just because that felt right, finished them off.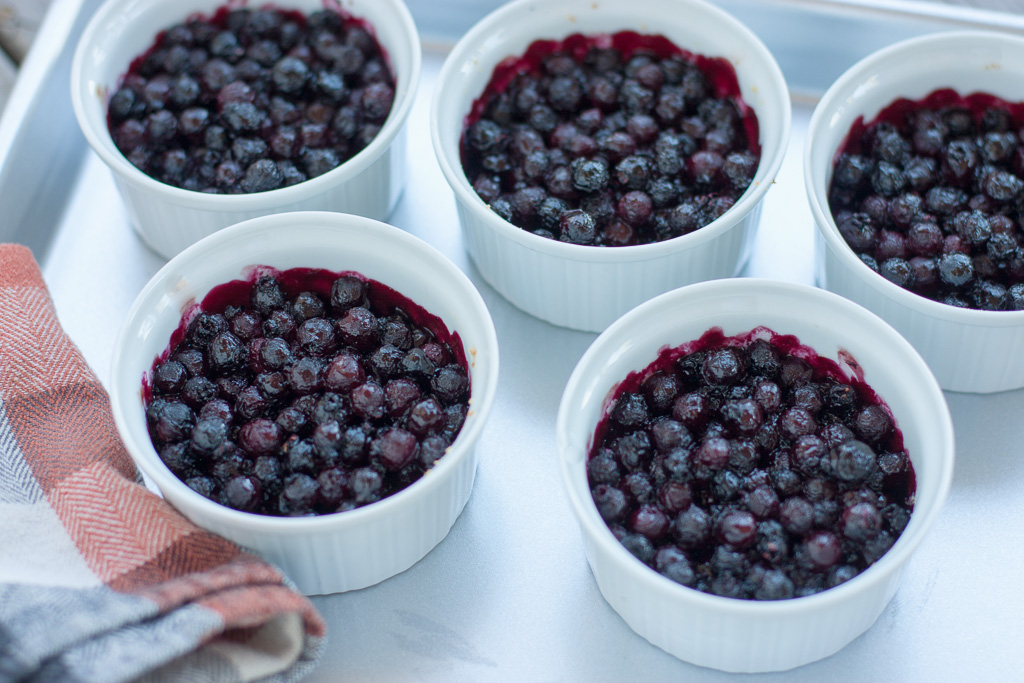 While Steve polished off most of a pie (over a few days) by himself, I was able to enjoy these cute little desserts with a dollop of stevia sweetened whipping cream and not too much worry about the carb count. A win-win in my books!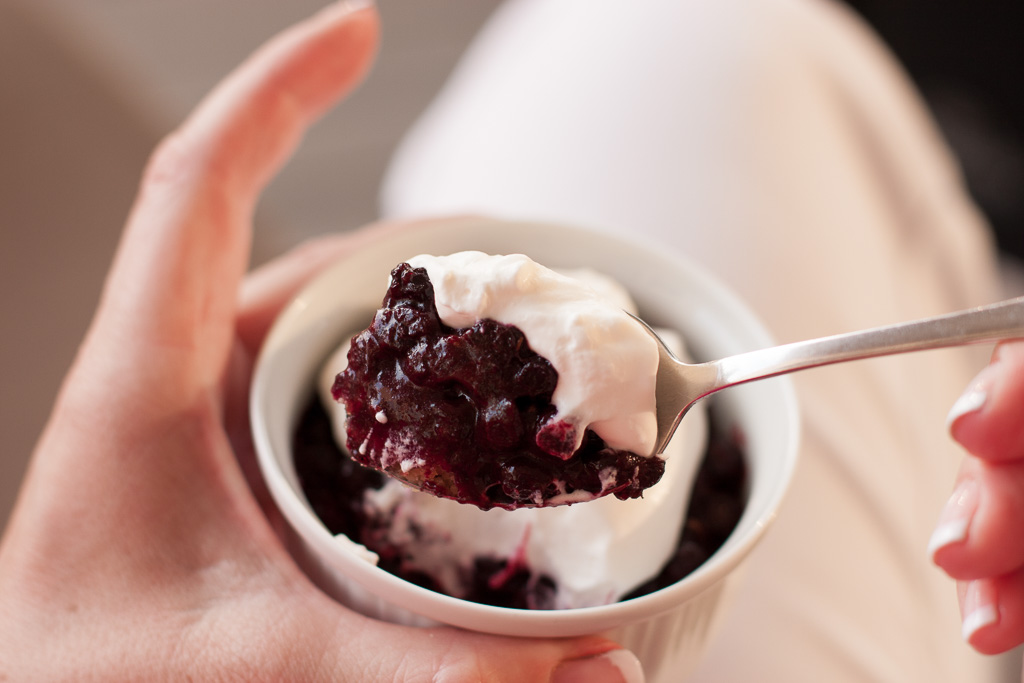 I originally made 5 of these but the recipe I've included makes two. This recipe will easily scale up though, just count on about 1 cup of berries for each serving and scale up the rest of the ingredients from there. If your berries are fresh it will be hard to go wrong.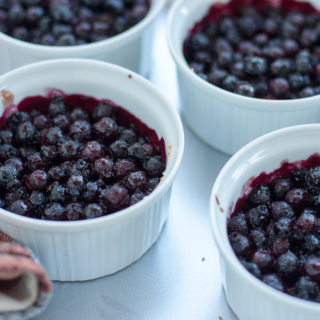 Low Carb Saskatoon Tarts
Cute little individual berry cups with a press in almond crust.
Print
Ingredients
For the crust
1/4

C

almond flour

1

tsp

Swerve

or equivalent granular sweetener

small pinch of salt

2

tsp

melted butter
For the filling
2

Cups

fresh or frozen saskatoon berries

thawed if frozen

2

tsp

butter

1

Tbsp

Swerve

or equivalent granular sweetener

Squeeze of fresh lemon juice

1 smallish wedge

1/4

tsp

xanthan gum

1

tsp

gelatin powder

optional
Instructions
For the crust
Preheat oven to 375°

Mix almond flour, granular sweetener and butter together until pea sized crumbs form. Press about 2 Tbsp mixture into the bottom of two 4oz ramekins.

Bake just until lightly browned, about 15 minutes
For the filling
Put butter, berries and sweetener in a heavy bottomed pot over medium heat until butter melts and berries begin to cook (time will depend on whether your berries are fresh or frozen but about 5-8 minutes is likely enough)

Add a squeeze of fresh lemon juice and sprinkle xanthan gum over berries.

Add gelatin if using and cook until reduced a bit and thickened.

Spoon berries over pre-baked crusts and pop back into the oven for about 10 minutes. (this step is likely not actually necessary)

Serve with heavy whipping cream sweetened with a few drops of liquid stevia.