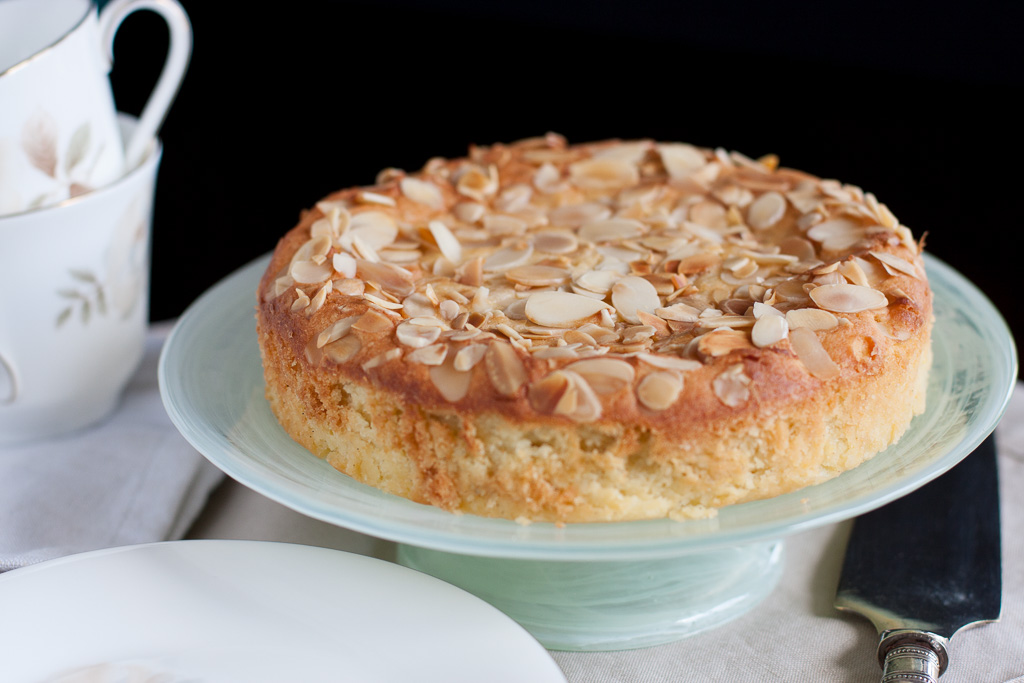 Oh yeah, let them eat cake! Delicious low carb cake (not to mention gluten and grain free) that is! Yummy, coffee cake like Italian ricotta cake. Mmmmm.
My enthusiasm for trying new things and my general thought that not much beyond rocket science is actually rocket science (you shouldn't mess with that stuff – IMO) can sometimes get me into trouble.
"Well, making homemade charcuterie doesn't look that hard, I should try it!"
"I wonder if it is tough to make your own bacon?" (It's not, and you can control the sugar content yourself!)
"Sourdough?" Easy (once you get your starter going). Seriously take this online course, just know, obviously, that sourdough bread is not low carb!
Anyway, where am I going with this? My crazy ideas about my abilities to do stuff had the words "Oh, I'll make your wedding cake!" coming out of my mouth, out loud, to my niece sometime last year when she mentioned that she didn't have a baker yet for her wedding cake. Seriously? I don't even bake all that much and here I was volunteering to bake not just any cake, but a wedding cake. I'm pretty sure there was wine involved somewhere in this story…
My offer was accepted and I stepped up to the challenge, baking many iterations and trying several recipes before landing on one winner, a delicious caramel chai spice with Swiss buttercream icing – decidedly NOT low carb. It was a lot of work but I was very proud of myself for creating this simple but beautiful wedding cake for Nicole and Andy's summer wedding. 'Scuse the iPhone photo please 🙂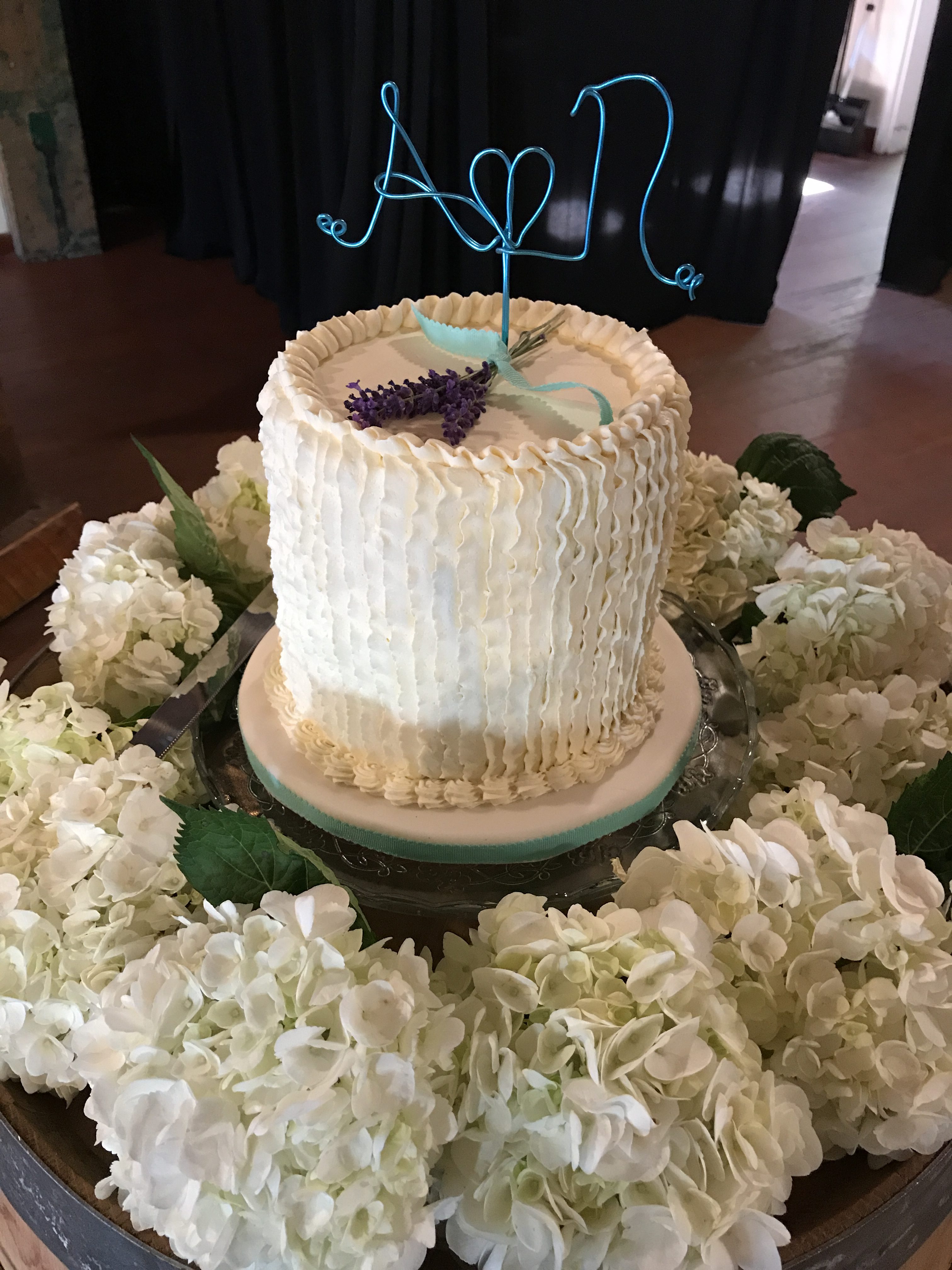 You'd think I would be done with cake after all of that but while searching for recipes I came across this low carb lemon ricotta cake from The Primitive Palate.
Now, for the most part I have come to the conclusion that baking is not the best use of time and effort on a low carb plan. Honestly, flour has magical properties provided to it by gluten. It is the gluten that makes things rise up and be lovely and light. Just using a gluten free flour substitute doesn't really work for LCHF either as gluten free mixes are still made with grains, something we are trying to avoid.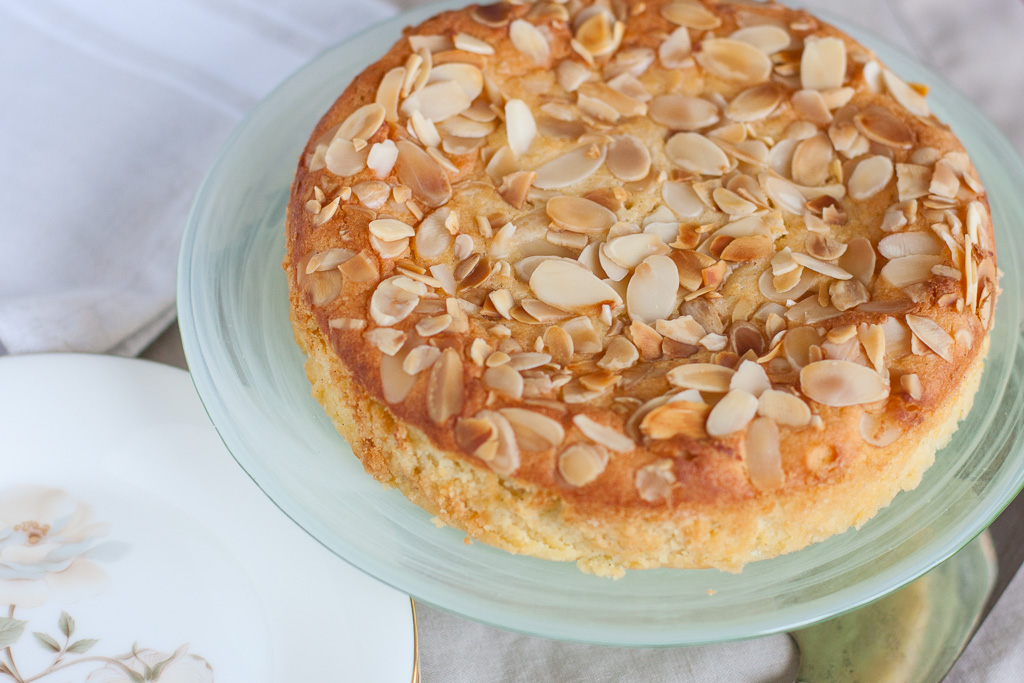 This recipe looked, and proved to be, promising though. Essentially it is a pretty dense cake so the almond flour works here. Ricotta offers moistness and it uses beaten egg whites to provide lift.
I thought it worked out pretty darned well and I have made it a few times now.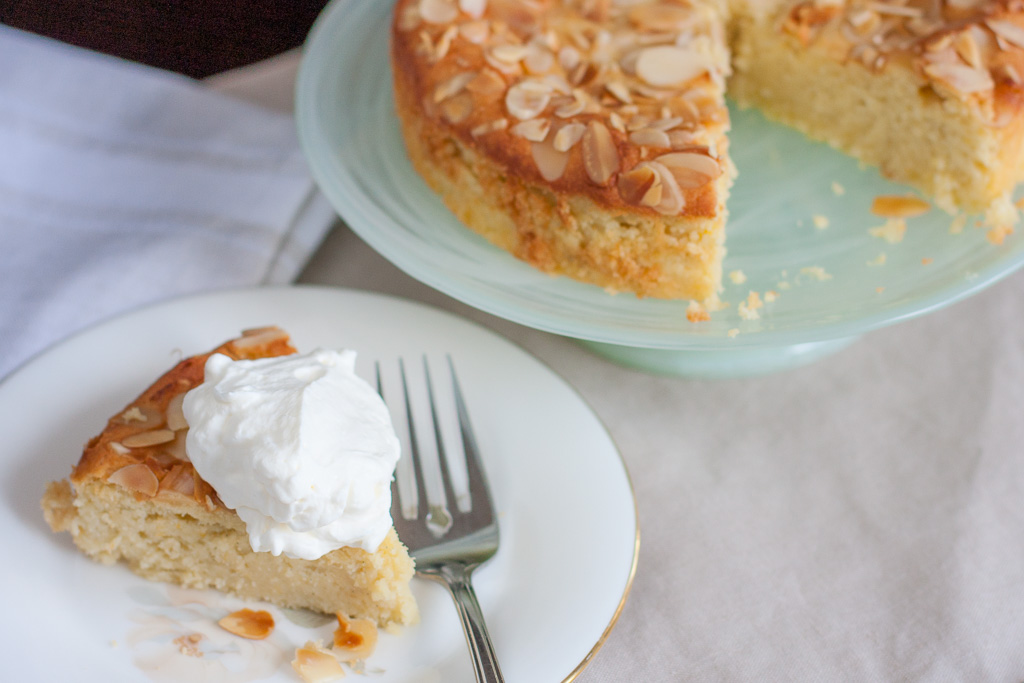 The one thing I changed here is the amount of sweetener. People must like things REALLY sweet and I find that I can reduce the sweetener, sometimes by quite a bit, and still find things pleasantly sweet enough for my liking. Play with it and find the balance that is best for you.
Oh I also used vanilla extract rather than a vanilla pod as currently there is a shortage of vanilla. Who knew?! Oh right, anyone who has purchased vanilla lately!
Serve this little beauty with a dollop of whipped cream sweetened with a few drops of stevia and you have a relatively low carb dessert. It comes in at around 6g of carb, depending on your serving size (10 servings).
It's pretty too. I brought it to a ladies event recently, straight from my freezer, and it was a big hit.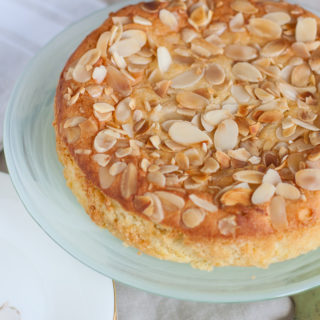 Low Carb Lemon Ricotta Cake
Dense, moist and deliciously lemony, this cake is as good with your afternoon tea as it is for dessert
Print
Ingredients
4

oz

1 stick unsalted butter, softened

1

C

Swerve Sweetener

or sub with Erythritol + 2 tsp liquid stevia.

1

vanilla bean

split and seeds scraped, or 1 tsp quality vanilla extract

¼

cup

lemon zest

one large lemon should do it

4

eggs

separated and at room temperature

2 ½

cups

almond flour

10 ½

oz

ricotta

⅓

cup

flaked almonds

to decorate
Instructions
Heat oven to 325 degree Fahrenheit. Line the base of an 8" round cake pan with parchment paper and set aside.

Place the softened butter, Swerve, vanilla or vanilla seeds and lemon zest into a stand mixer (or a hand-mixer and a large mixing bowl will work) and beat for 5-8 minutes or until pale and creamy, scarping the bowl occasionally.

Once well mixed, add the egg yolks, one at a time, continuing to beat until fully combined.

Add the almond meal and beat to combine.

Fold ricotta into the almond meal mixture. You can do this by hand or gently with your paddle attachment on your stand mixer.

Remove the mixture to another large bowl and clean your mixing bowl very well, making sure that no grease or oil remains. Beat egg whites with whip attachment in your cleaned bowl until stiff peaks form.

Gently fold the egg whites into the cake mixture in one third increments until just incorporated. Do not over mix, you want the eggs incorporated while keeping the air in the mixture.

Pour the batter into the prepared cake pan, smooth the top with a butter knife, sprinkle the cake with almond flakes, and bake for 50-55 minutes or until cooked and firm to touch. Allow to cool completely in the cake tin.

Serve with whipped cream sweetened with Stevia, if desired.
Recipe Notes
This recipe can be split in two and baked in two 6" pans. One for now, and one for later! It freezes very well.

Adapted from The Primitive Palate