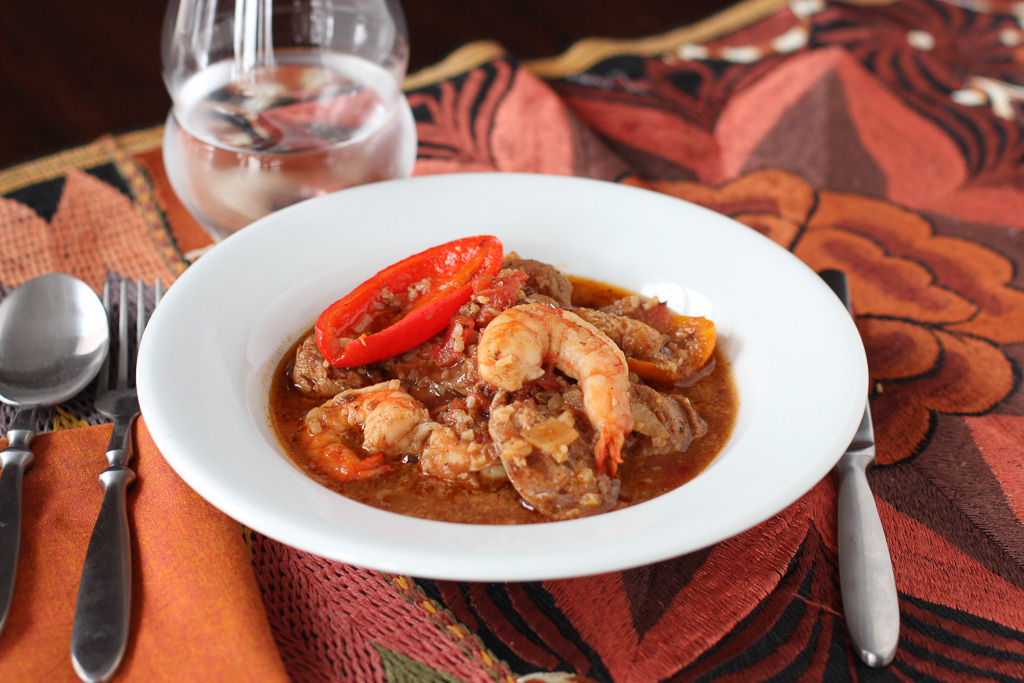 This quick and easy low carb jambalaya was today's solution to satisfying Steve's craving for some spicy southern food. It also was a great way to whip up a tasty dinner in a hurry after an already busy day in the kitchen.
We enjoy making fermented sausages like salami and chorizo and after spending a fair bit of time today making salami and landjaeger, to keep up with our constantly diminishing supply, the jambalaya suggestion was a welcome one – since I knew that it would be be hearty but also easy to throw together at the end of the day. (I had also promised a favourite design client that I would bring cake for our meeting tomorrow so I was extra busy today!)
I find that seafood, and shrimp in particular, is my go-to solution for the 'OMG, I don't have anything planned. What the heck am I going to make for dinner?!" question. I usually have shrimp in my freezer at all times and it only takes just a few minutes in cold water to thaw it, making it a perfect last minute dinner plan. Some sort of spicy sausages like fresh Italian sausages are also almost always in my freezer.
A note about the sausages; if you are using a fresh Italian sausage I find it best to cook the sausage through before slicing it. This keeps the casings from shrinking and pulling away from the sausage meat. If you are using a dry chorizo you can slice it before adding it to the pan, adding it after the chicken to keep it from being over cooked.
I had a small spice bottle of something that I had marked 'creole blend' in my pantry so admittedly I used that for this recipe. If I can figure out where that recipe came from I will post it in a separate post but you could definitely use this spice mix, a family favourite, or an equal amount of a home made blend like this one. Start slowly and season to your own personal taste as each blend will offer a differing amount of heat. You can always add more but if you've made it too spicy it's going to be hard to remedy!
This whole dish comes together in well under an hour and is completed in just one pot – well, unless you need to make rice for the carb lovers in your family that is!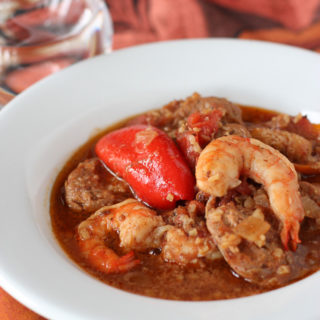 Low Carb Jambalaya
Forgo the rice and use cauliflower rice in this spicy low carb jambalaya.
Print
Ingredients
6

skinless

boneless chicken thighs, cut into bite-size pieces

1

lb

andouille

hot Italian or chorizo sausage, sliced into ¼ inch thick slices

1/4

cup

avocado oil or ghee

1

medium onion

chopped

1

large bell pepper

sliced into 3/8" wedges, or 6-8 mini bell peppers seeded and cut in half

2

cloves

of garlic

minced or crushed

1

large can diced tomatoes

undrained

1

C

chicken stock or bone broth

preferably home made

1 1/2

Tbsp

creole spice

or to taste

1 - 1 1/2

C

of cauliflower

riced

2

cups

shelled and deveined shrimp

Salt and pepper to taste
Instructions
Heat oil over medium high heat in a stainless steel or cast iron dutch oven.

Brown the chicken pieces along with the sausages. Cook in batches if needed, setting any done pieces aside in a dish until all are just cooked through.

If using raw Italian sausages I find it easiest to cook the sausages whole, remove from the pot to slice and then place back into the dish.

Once all of the meat is cooked add the onion and peppers, cooking until just softened.

Add the garlic and cook just a few minutes to soften.

Add the tomatoes and chicken stock to the pot and bring to a low boil, uncovered.

Season with creole spice and about 1 tsp salt.

Simmer for about 10-15 minutes, taste and adjust seasoning.

Add cauliflower rice, cook until done to your liking (I like mine to still have a bit of a bite)

Add shrimp and cook for about 5 minutes until just done - don't over cook them!
Recipe Notes
Note: I made a bit of rice for hubby and there is enough sauce in this dish to serve it over rice, even with the cauliflower.