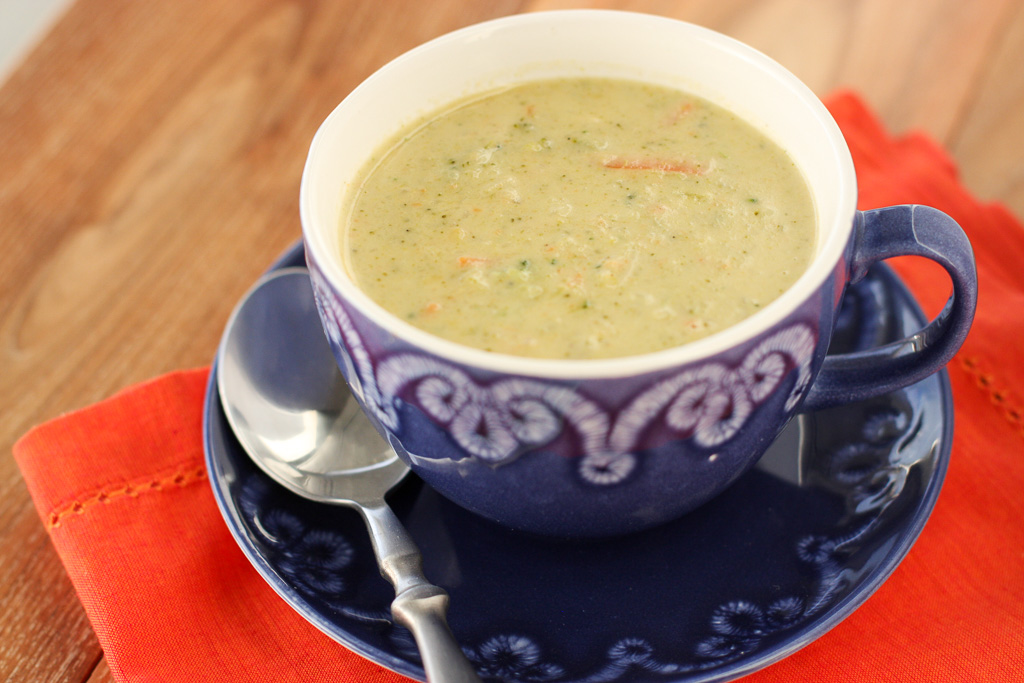 We are soooo in that weird place where our grown kids are leaving, coming back again, and leaving again. It's a tough world out there and our kids are definitely feeling it.
For me, having adults coming and going as they please but still wanting to offer good, home made food means having to plan, expecting that leftovers will be appreciated and generally just making more of everything. I have boys, I do mean MORE of everything.
My oldest son is temporarily back at home but has been trying to keep his diet as low carb as possible (note – beer doesn't help!). He loves creamy broccoli cheddar soup and so today I mixed up a batch for him to take in his work lunches for the next day or so.
Creamy soups often rely on a flour and milk roux to thicken them. The good news is that some vegetables, when pureed, will give a creamy mouth feel and thicken your soup without the addition of any particular thickening agent like flour or cornstarch – both high carb options.
This low carb cheddar and broccoli soup uses the additional power of cream, sour cream, cheese and time to reduce it a bit to create a low carb, nutritious soup. Perfect for a cold winter day lunch or even a lighter dinner.
I love the addition of a bit of smoked cheddar. I think it elevates the flavour from good to great. My favourite is the Balderson brand smoked cheddar that I find at Costco. If you can't find a good smoked version just use cheddar. I do suggest a sharp cheddar though as it will offer up the best flavour.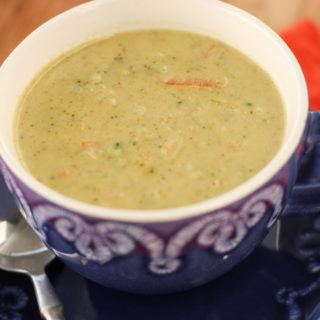 Low Carb Broccoli Cheddar Soup
A delicious low carb soup, perfect for a cool winter lunch or dinner
Print
Ingredients
3

Tbsp

butter

1/2

yellow onion

chopped

1

clove

garlic

chopped finely

2

stalks celery

diced

3

C

broccoli

divided

1

small carrot

julienned (matchstick cut), or grated coarsely, divided.

2 1/2

C

chicken bone broth

1/2

C

heavy whipping cream

1/4

C

scant sour cream or creme fraise

salt and pepper to taste

2

C

sharp cheddar

grated

1/2

C

smoked cheddar

grated
Instructions
Heat butter in heavy soup pot until melted

Saute onion and garlic until just soft but not browned

Add celery to pot and cook until beginning to soften

Add broth to pot and bring to a low boil

While broth is heating trim ends and peel any broccoli stalks and chop into 1/2" dice. Chop all but about 1/2 C of the broccoli florets coarsely and add both stalks and florets to broth.

Add 2/3 of julienned carrot to broth. Cook until vegetables are softened.

Taste and add salt and pepper.

Remove pot from heat and with a stick blender or blender carefully puree soup to both thicken it and to break down any large chunks of vegetables. This does not need to be perfectly smooth though it could be if you like your soups very smooth.

Return soup to pot (if you've used a blender) and to the heat.

Add cream, sour cream and remaining vegetables to the pot. Heat at medium for about another 8-10 minutes until second batch of broccoli and carrot are just cooked. Stir occasionally to prevent the cream from scorching.

Remove the soup from the burner and add grated cheese, stirring to melt.

Taste and add more salt and pepper if needed.
Recipe Notes
If you do not have smoked cheddar you can just use 2 1/2 C of sharp cheddar.
*This recipe should serve 2 large bowls for a light dinner or 4 smaller bowls for lunch or a starter.