Yup I said apple. Well, sort of.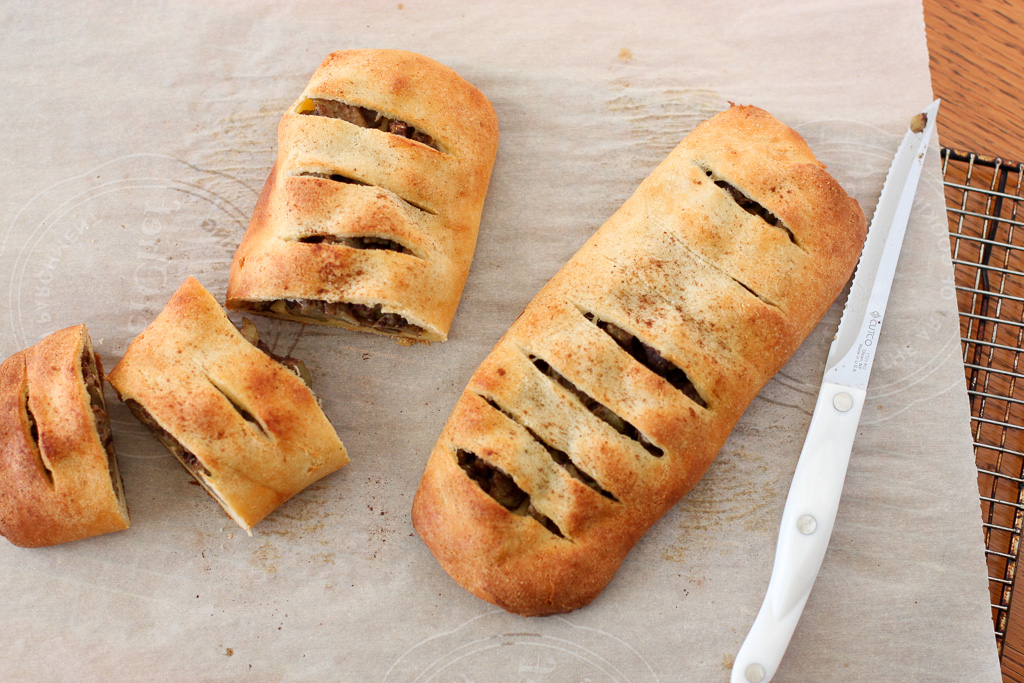 Do you remember oh so many years ago when mock apple pie hit your mom's recipe books. You know, the one that used Ritz brand crackers rather than actual apples?
Who's idea was that anyway??!! Can you imagine why on earth you would want to replace a perfectly good, natural apple with Ritz crackers? Boggles the mind. Oh, right, it was likely the idea of Nabisco, the manufacturers of the crackers…
ANYWAY, this is not that. This recipe replaces high carb apples with equally nutritious but low carb chayote squash. Win, win. For the record 100g of apple contains 14g carbohydrate, 2.4 g fibre and 10g of sugar, while an equal weight of chayote contains 4.5g carbohydrate, 1.7 g of fibre and 1.7g of sugar. With a little help from your classic apple pie spices like cinnamon, cardamom and nutmeg, a bit of low carb sweetener and an optional drop or two of apple flavouring I'd wager that most folks would have a rough time telling that these yummy turnovers were not made with apple.
I know that some people have trouble finding chayote in their grocery store but at Superstore here in Calgary I have nearly always been able to find them. Hint, try the more 'ethnic' section of the veggie bins. At Superstore they are always near the bitter melons, eggplant, okra and other more exotic vegetables. They look like hard green pears.
I occasionally sauté chayote as I did in this recipe here, but was very curious when I heard that they could be used as an apple substitute and that people swore you could barely tell the difference. This kind of weird challenge always makes me want to give things a try. The only thing is, I don't have a lot of recipes that use cooked apples. That got me wondering how I could give this a try while still making something that I would actually eat.
"Newsflash!", said my little pea brain, make apple fritters with a low carb crust. "Okay", I replied to myself, "but what kind of crust?" "Well" said pea brain "cheese goes well with apples so how about Fathead pizza crust?"
Bingo, bango, bongo. I whipped up a batch of Fathead crust, modified to be a bit sweet rather than savoury and set to work making a nice packable breakfast turnover. My first try turned out pretty good but the turnovers were just a bit greasy. Then I remembered another recipe I had tried that subbed half of the almond flour with coconut flour. Yes! This is the crust for a turnover. The coconut flour absorbs just enough of the fat from the cheese to make it pastry like.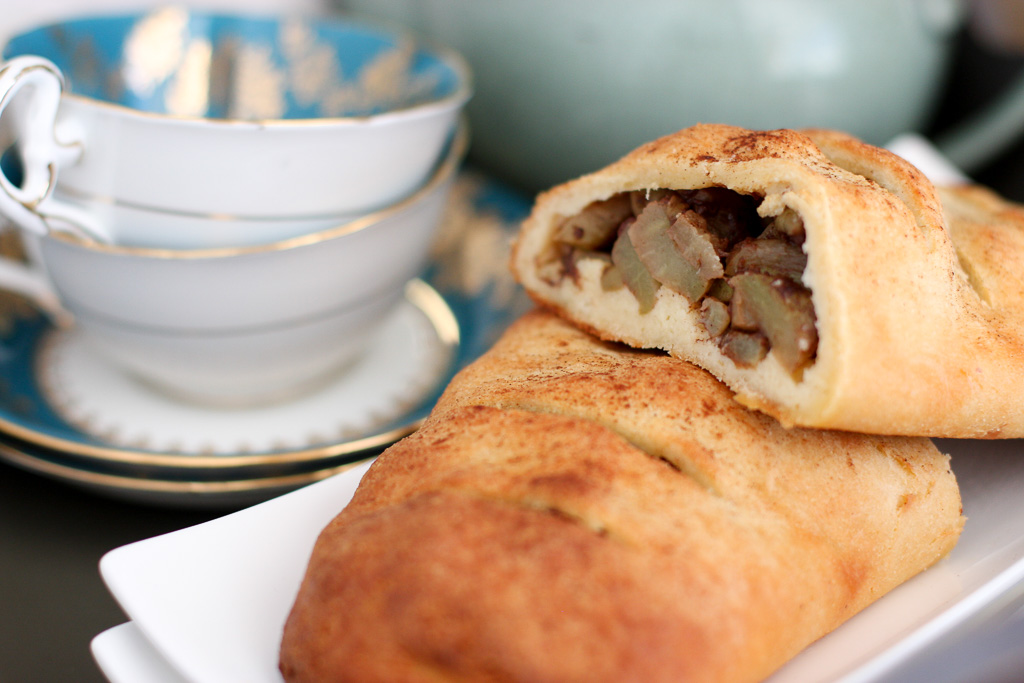 The first step was to soften up the squash. After peeling and chopping it (there is a bit of a trick to this as chayote can do this super freaky thing to your skin if you hold it while peeling. I always hold it in a paper towel while peeling it to avoid looking like my hands have been chemical burned. Yes, it is weird) I simply sautéed it in a frying pan with some brown sugar substitute, butter and my spices. Chayote takes a fair time to soften and you won't have the turnovers in the oven for long so you want to make sure you cook this long enough.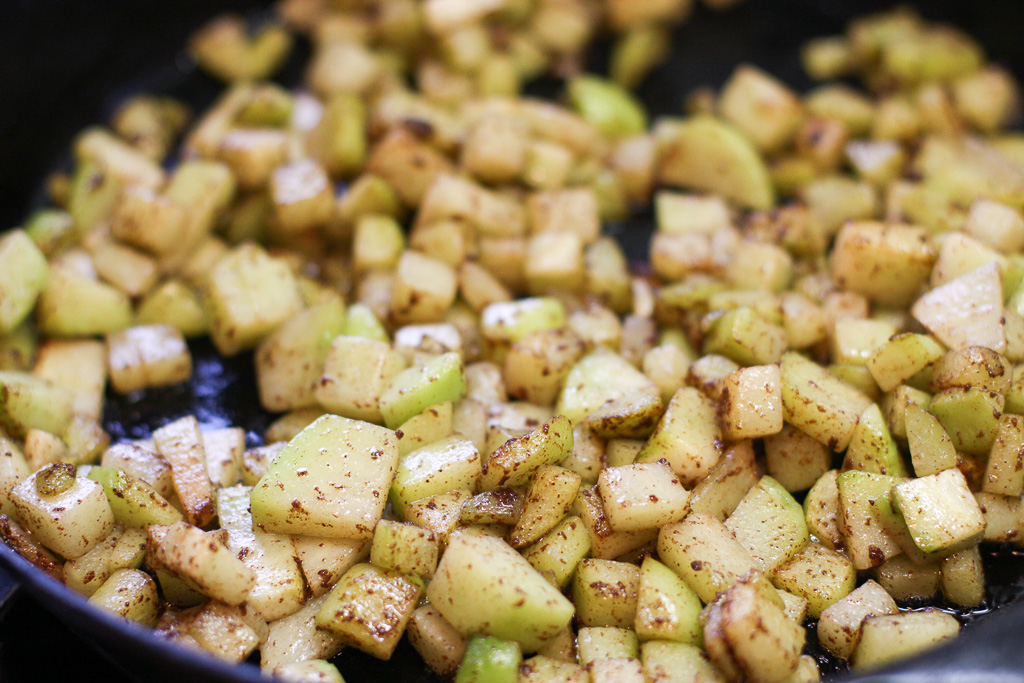 When my squash was done I mixed up my dough, cut it in half to roll out two equal rectangles, plopped the 'apples' in the centre and rolled them up, tucking the ends in as I rolled, then slashing the dough and brushing with a bit of melted butter and cinnamon before baking to give it that apple turnover look.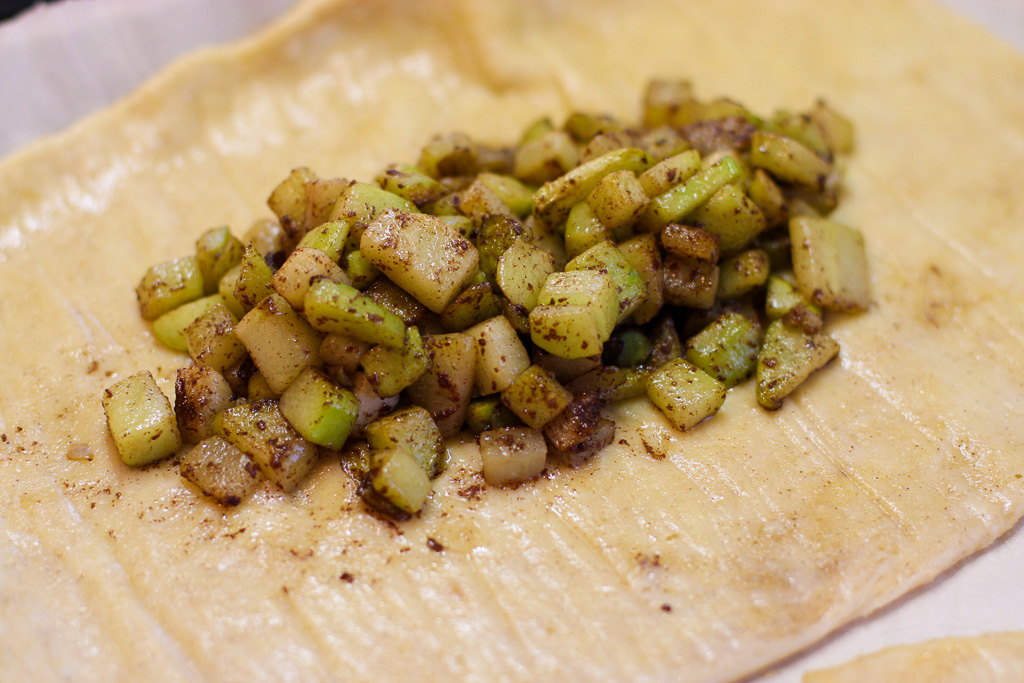 Baking just until brown only takes about 25 minutes, and with the modified crust there is no greasiness at all.
I cut these into halves or even quarters, perfect for breakfast or a light afternoon snack with tea.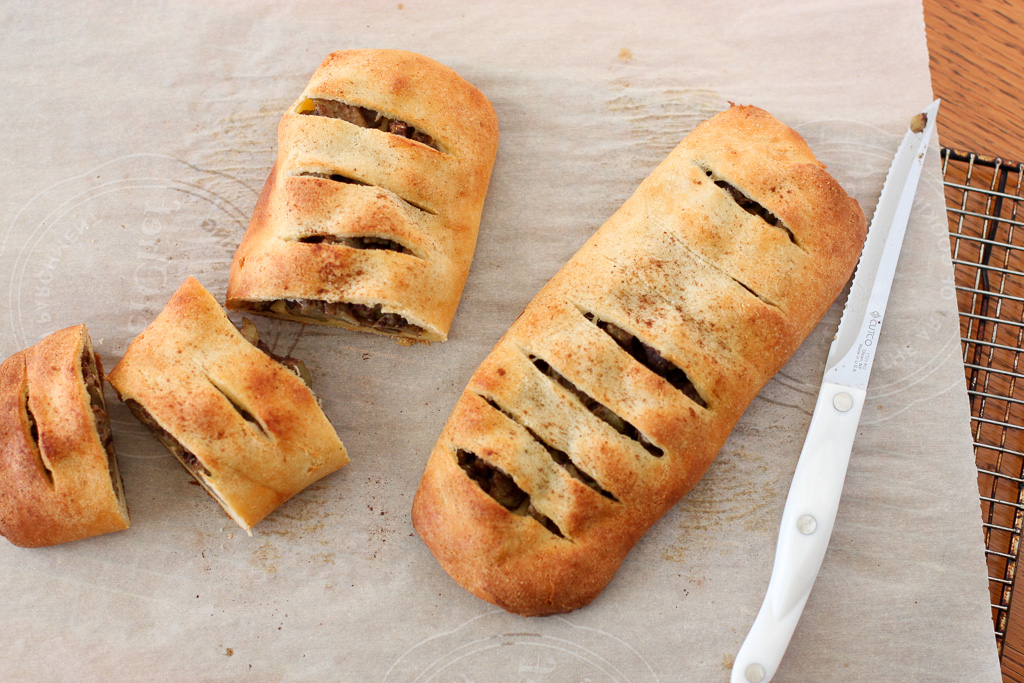 Low Carb 'Apple' Turnovers
2017-12-16 15:24:28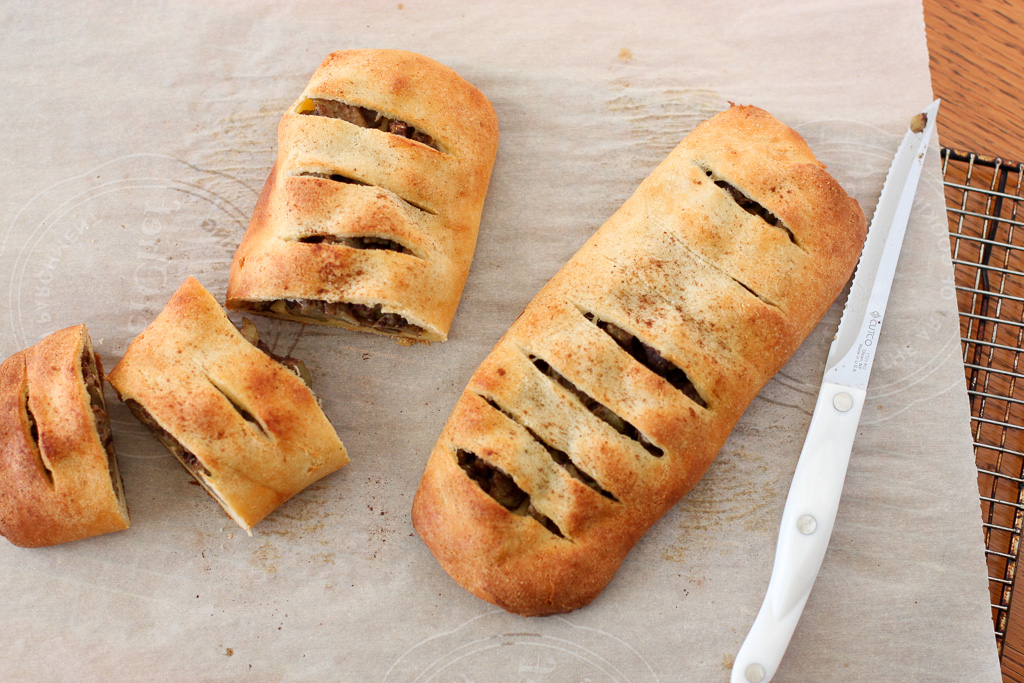 Serves 4
A low carb apple turnover perfect for a light snack with tea or hearty enough for an on the go breakfast
Ingredients
For the filling;
2 Chayote Squash, peeled, pit removed, quartered and sliced thinly. (Hold the squash in a paper towel while peeling to avoid skin irritation)
3 Tbsp butter
2 Tbsp low carb sweetener like Swerve or Brown Sukrin
1 - 1 1/2 tsp cinnamon
1/8 tsp cardamom (or to taste)
1/8 tsp nutmeg (or to taste)
1/4 tsp apple extract (I use Lorann's)
For the pastry
230g (8oz) shredded mozarella cheese
60g (2oz) cream cheese
1 egg
1 tsp vanilla extract
1/2 C almond flour
3 tbsp coconut flour
1 tsp baking powder
1/4 tsp cinnamon
For the filling
Heat a frying pan over medium-high heat
Add butter and squash to pan
When squash begins to soften add sugar substitute and spices. Sauté until quite soft, about 15 minutes.
Add apple flavour oil during the final 5 minutes of cooking
Set aside. You can even prepare the filling ahead of time and refrigerate until needed, one or two days.
For the pastry
Preheat the oven to 350°
Place shredded mozarella and cream cheese into a non-metallic bowl, microwave in short bursts, stirring in between to melt but not 'cook' cheese.
While microwaving cheese mix flours, baking powder and cinnamon together in a small bowl.
Once cheese is smooth, check to make sure it is not scorching hot and add your egg and vanilla to the bowl. Quickly add flours and mix together until smooth*.
Divide dough into two equal portions. Roll each portion thinly, into a rectangle, between two pieces of parchment paper.
To Assemble
Once dough is rolled out into two rectangles, divide your filling into two equal portions and lay in a line a bit toward the closest edge of the pastry to you.
Roll the dough over the filling. Fold in each end and roll to the far end of the dough. Position the rolls so that the seams are on the underside.
Place parchment paper on a baking sheet and place rolls on top. Cut slashes into dough if desired and brush with melted butter. Sprinkle with cinnamon.
Bake for 25-30 minutes until golden.
Remove to a rack to cool.
Cut in half or into quarters and store in the refrigerator or eat promptly while warm!
Notes
* I find it best to use my hands to sort of knead the ingredients together.
Mia's Daily Dish http://www.miasdailydish.com/