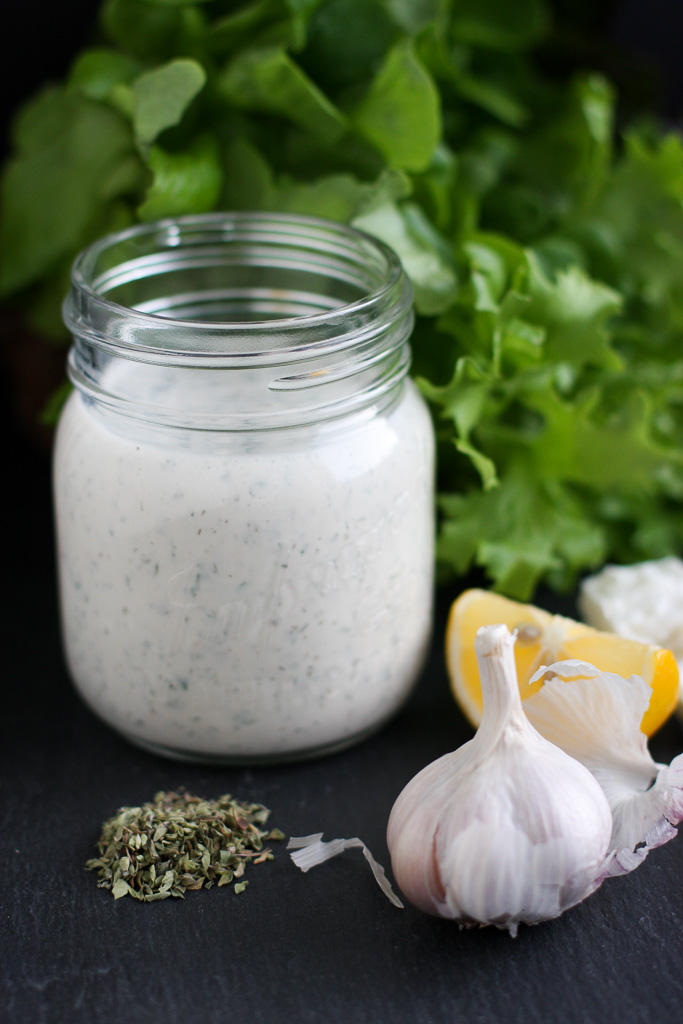 I love the Creamy Greek Feta Dressing by Renee's Gourmet Dressing. It is tasty, everyone loves it, and it is made with pretty great fresh ingredients. The only thing that isn't ideal is the canola oil that is ever so common in packaged dressings. Canola, and other oils like soybean are used in products that will be refrigerated. These oils will not solidify in the fridge, making them perfect from a commercial standpoint. After all, most of us do not want to have to take our salad dressing out of the fridge 30 minutes before using it so that the oil can liquify. (BTW, if you want to know if your olive oil is fake this is just one way that may shed some light on it – place it into the fridge for a day or two. If it solidifies or gets quite cloudy it is likely real, if it doesn't it is either fake or blended with other, non-olive, oils.)
Since it has become one of our standby dressings I wondered if I could create something similar without the nasty seed oils. After a bit of searching around I found several recipes that served as a good starting off point and then added a few extra herbs to get it as close to the taste I was looking for as possible.
I'm pretty thrilled with the outcome as far as taste goes and this dressing has the added benefit of some probiotic, brought to the table via the yogurt. Probiotics are so important to our health and we are just beginning to understand to what degree through continued research of the human microbiome. Though I make my own kombucha and sauerkraut I don't consume either of them daily, partly because I don't make enough to keep up with that kind of consumption and partly just because I don't. So, having another fermented food with live bacterial cultures to use in my repetoire is helpful and though I wouldn't likely eat plain yogurt everyday (sweetened fruity versions are out of the question) we do make a salad every day and I'm going to use dressing on those salads. So, why not make it good for you homemade dressing with the added bonus of a bit more gut friendly probiotic?
If you choose to use coconut vinegar you'll also get a bit of prebiotic action going on to help feed those little probiotic microbes. The Worcestershire is optional. Though I think it really adds to the taste it is not a grain free product so if that matters to you omit it.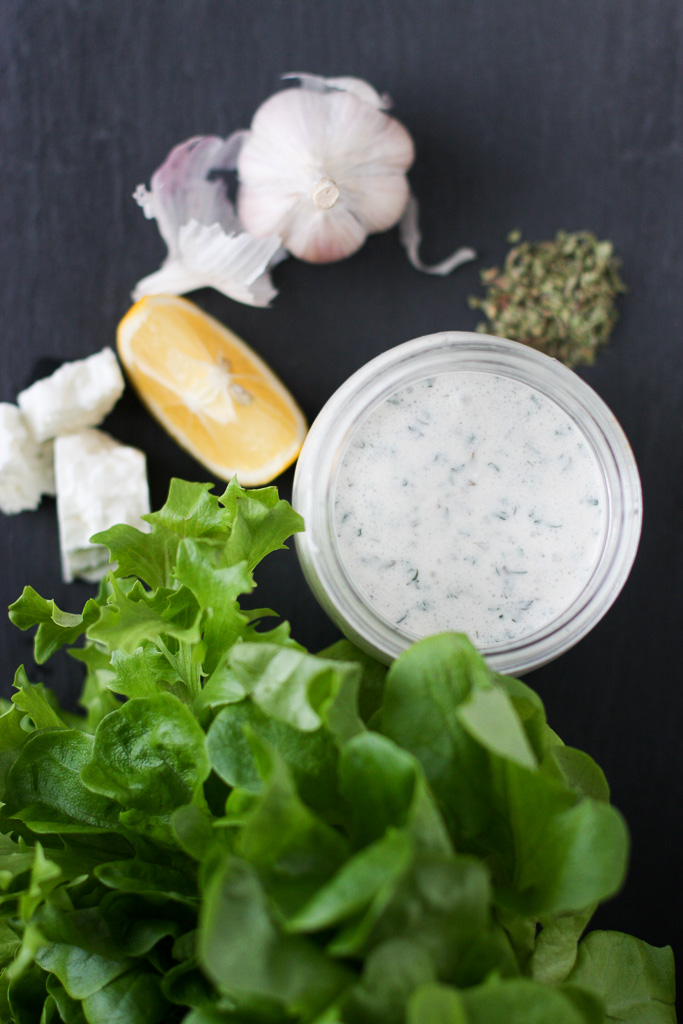 This recipe is pretty customizable so if you enjoy a bit more dill than oregano or more or less garlic I think it is a good jumping off type recipe. It is a bit thinner than the commercial one but that will be variable as well as the thickness of your yogurt will make a difference. I liked it better actually as it was easier to mix a bit of dressing all the way in to the salad rather than having it just sit on the top. You know how that is.
If you find it too thick you could thin with a little bit of water or cream.
This recipe makes just over a cup and could be easily cut in half if you want a smaller quantity.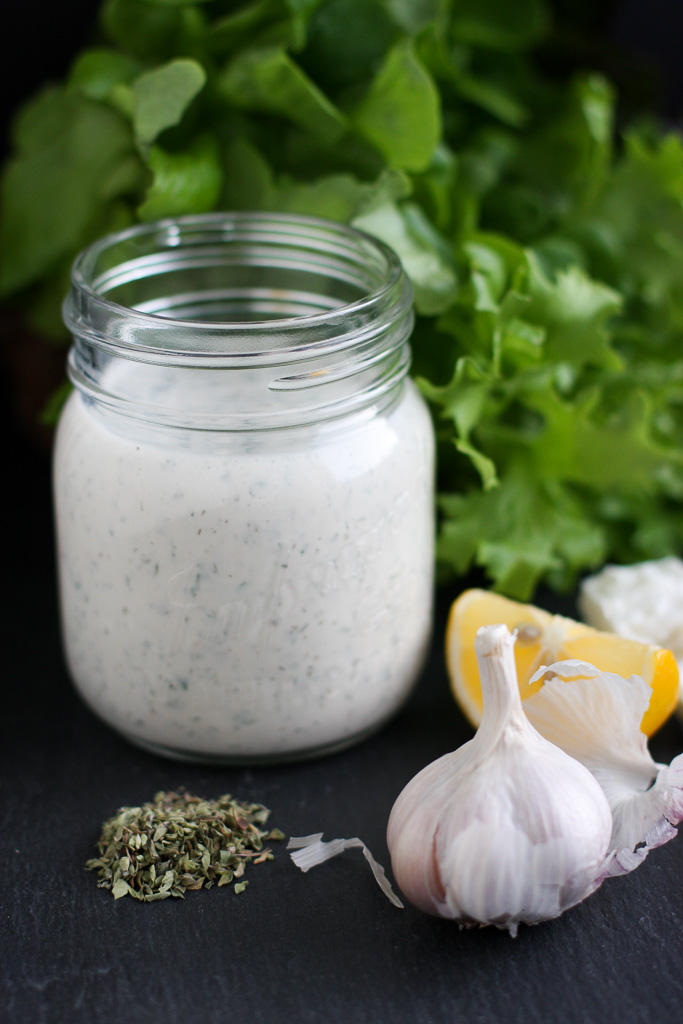 Creamy Greek Feta Dressing
2017-12-27 15:45:49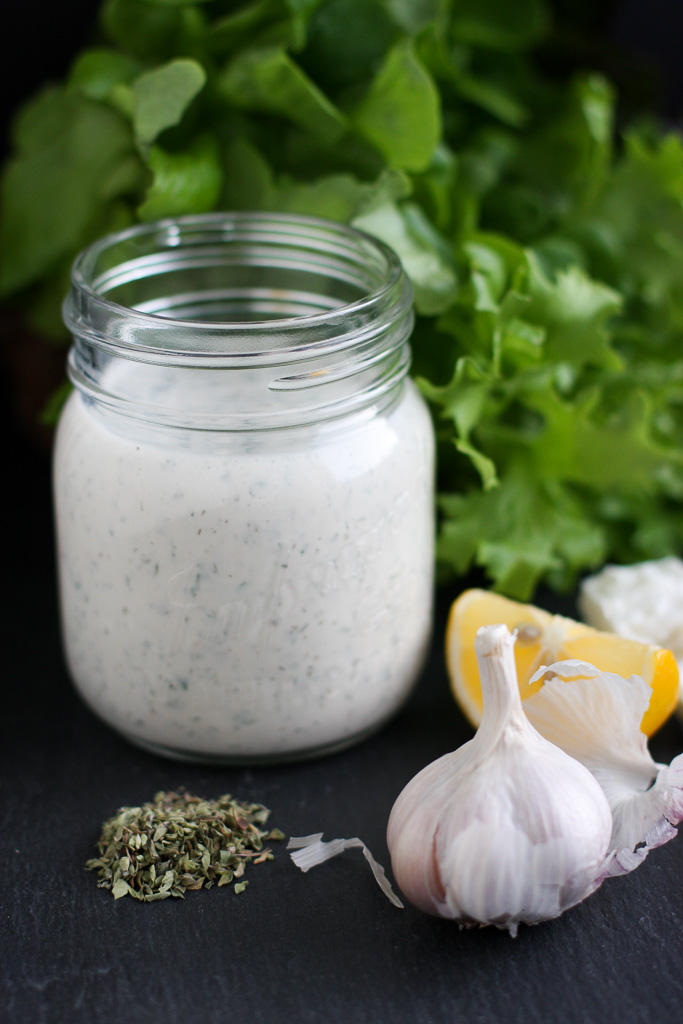 A creamy dressing sure to please, without seed or vegetable oils and with the added benefit of live probiotic cultures.
Ingredients
1 C plain yogurt, preferably high fat, no artificial ingredients and live bacterial cultures
115 g (4oz) feta cheese
1/2 tsp apple cider or coconut vinegar
1/2 tsp worcestershire sauce (optional)
1 tsp dried dill, or 1 Tbsp fresh
1 tsp dried oregano
1 tsp dried parsley
1 tsp garlic powder
1/4 tsp onion powder
1/2 tsp kosher salt
1 tsp fresh lemon juice
Instructions
Put all ingredients into a blender (or use a deep container with a stick blender) and blend until mostly creamy. I prefer mine with a bit of chunkiness from the feta but you can blend to your desired consistency.
Store in the fridge and use up within about a week, maybe two depending on the stale date of your yogurt and feta.
Notes
The ingredients listed here are really just a guide. Like your dressing garlicky or really like dill? Add more. Enjoy
Mia's Daily Dish http://www.miasdailydish.com/